Topics
Rabbit Hill Store
Instruments
CD
Cassettes
Vintage Records
and much more
Lessons
Rabbit Hill Store
17 Goldsborough St.
Easton, Maryland, 21601
410-822-2920
Open
Mon. 10 to 8
Tues. 10 to 8
Wed. 4 to 8
Thurs. 10 to 8
Fri. 10 to 7
Sat. 10 to 6
Sun. 12 to 5
Julius George Music

Rabbit Hill Music
17 Goldsborough street
Easton Maryland 21601
410-822 - 2920

Welcome to the Rabbit Hill Music Store
Where the Music never ends
Rabbit Hill Store created in Feb. 15, 1994 and owned by Julius Guy George (J.Guy).
has launched his guitar line in the year 2003. His designs were started in 1999 wit....
An American Acoustic Guitar Duo.

WE CARRY:

SHEET MUSIC, INSTRUCTIONAL BOOKS, AND PERSONALITY FOLIOS.

Publishers include: Hal Leonard, Warner Bros. Mel Bay, Music Sales, Alfred, Suzuki, John Schaum, Dover Classics, Schirmer's, C.F. Peterson, Carl Fischer, James Bastien, Easy Play Today, Dick Bennett, Aaron Shearer, Koala,

CASIO KEYBOARDS, DUST COVERS AND CASES, STANDS, THRONES, METRONOMES AND LIGHTS.




Albums

| | |
| --- | --- |
| | Over 15,000 albums in stock mainly Rock, Pop, R and B, Blues and Jazz. |




Wind Instruments

Flutes

Clarinets

Fifes

Harmonicas

Jaw harps

Saxaphones

Trompets

Trombones




Violins

Guitars

Cassettes

We can order you new cassettes of some latest artist releases. Takes about 7 days, or find out what we have in stock.

Guitars

CD's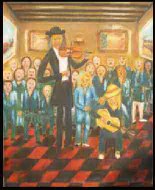 Guitars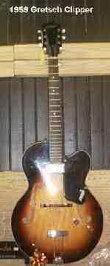 1959 Gretsch Clipper
Sold !

1994 Fender Stratocaster USA made.

1994 Fender Stratocaster USA made.
Sold!